On January 11, 2018 Facebook announced a major change to their newsfeed that would show less posts from businesses and more posts from friends and family that are considered meaningful to users.
This is a big concern to business who use Facebook as a marketing tool. The good news for businesses is that this will not affect advertising, but it will affect regular posts.
Post vs. Boosted Post
As a business you can make a post and it will be seen by about 20% of users who like your page. Posts with more engagement including comments will show more often and to more users. What companies typically must do to reach a larger audience, including more of the users who like their page but also users targeted by interests and other factors is pay to promote the post. Promoted posts will also show in newsfeeds and will not be affected by the recent changes. In addition to promoted posts, advertisers can also show ads including image ads, video ads, carousel ads and other ad formats right in the newsfeed. These are considered "ads" and would not be affected by the recent newsfeed algorithm changes.
The bad news is that businesses who use facebook as a marketing tool without paying for ads will reach less people. Posts made by businesses will have to be much more engaging now in order to be seen in newsfeeds given the recent change. Or, businesses will have to pay to boost them or set them up as ads.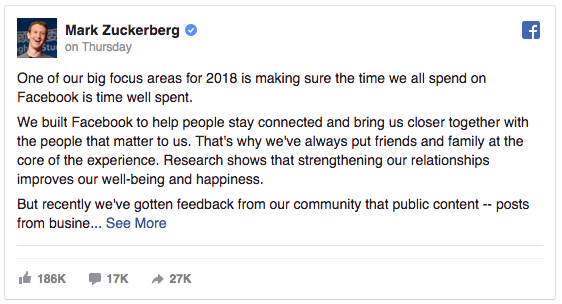 See Mark Zuckerbergs full post:
https://www.facebook.com/zuck/posts/10104413015393571